I ett läckt e-mail avslöjas att Tesla kommer införa treskift på Model 3 tillverkningslinan i sin bilfabrik i Fremont. Enligt interna mejlet Elon Musk skickat till sina anställda i tisdags hade Tesla tillverkat 2020, 2070 resp 2250 Model 3 de senaste tre veckorna. Därmed tillverkar nu Tesla fler Model 3 i veckan än Model S och X sammanlagt. Men nu ska tillverkningen upp i mycket högre volymer.
Först stoppades produktionen i fem dagar (under förra veckan) för att bygga om produktionslinan. Fortfarande fanns det några flaskhalsar som bromsade produktionstakten. Med nya förbättrade linan hoppas Elon komma upp i en produktionstakt på 3-4000 bilar i veckan under maj månad. Efter ytterligare en förbättringsomgång i slutet av maj kommer fabriken förhoppningsvis kunna komma upp i en produktionstakt på hela 6000 bilar i veckan – till och med mer än de 5000 företaget officiellt siktar på. Så att Tesla får en "felmarginal" som Elon kallar det.
Tesla kommer även införa ett tredje skift på linan, så att bilarna ska börja produceras dygnet runt. Det är nog inte många som har fattat, men Tesla Model 3 tillverkades endast i två skift och endast på vardagar hittills. Varje natt stängdes rullbanden av när arbetarna gick hem, och fabriken stod stilla även på helgerna. (Helt öde var det nog inte, det var nog under de tidpunkterna småförbättringar på tillverkningslinan infördes.)
Nu ska fabriken igång "på allvar" och börja spotta ut bilar dygnet runt, alla sju dagar i veckan. Tillverkningstimmarna ökar alltså från 80 timmar i veckan till drygt det dubbla, 24*7=168 timmar i veckan.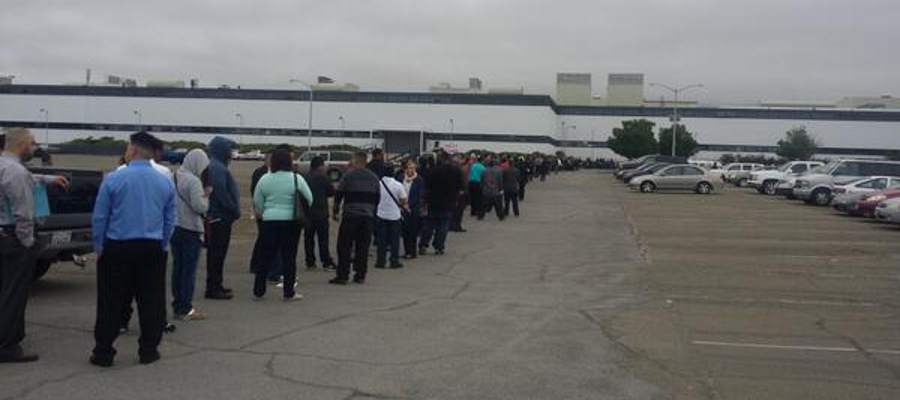 För att kunna köra igång tredje skiftet kommer Tesla anställa massor med nya arbetare, 400 nya anställda i veckan i flera veckor framöver. Elon bad de anställda att tipsa om de känner folk som vill få jobb. När Tesla senast expanderade 2014 inför tillverkningen av Model X kom det så många arbetssökande att polisen fick gå ut med trafikvarningar och Tesla fick avbryta jobbmässan i förtid.
The good
Fördelen med att gå upp i treskift är att befintliga maskiner kommer utnyttjas bättre. Genom att köra produktionslinan dubbelt så många timmar per vecka som förut, 168 timmar mot hittills 80, kommer det tillverkas dubbelt så många bilar också. Istället för att tillverka drygt 2000 Model 3 i veckan kan Tesla komma upp i produktionstakt på drygt 4000 bilar utan att behöva snabba upp löpande bandet. All kapacitetsökning får också dubbla effekten. Skulle de fortsatt som nu och ökat produktionstakten med 50% skulle de uppnått 3000 bilar per vecka. Nu ger samma produktivitetsökning ett hopp från 4000 till 6000 bilar per vecka.
Tesla kommer alltså med all sannolikhet uppnå sitt mål på 5000 bilar i veckan mot slutet av juni, kan till och med överträffa den med råge. (Betänk vad det skulle göra med aktiekursen.)
The bad
Volymproduktionen av Tesla Model 3 måste komma igång för att Tesla ska gå med vinst. Men treskift veckan lång är en "fusklösning" enligt många. När Tesla räknade lönsamhet på Model 3 räknade de med högautomatiserad snabb tillverkning. 5000 bilar i veckan skulle inneburit en Model 3 som lämnar löpande bandet var 58:e sekund om man räknar på 80 timmars arbetsvecka. Tillverkar man däremot lika många bilar på 168 timmar blir det en ny bil var 121:a sekund. En bil varannan minut isf varje. Och tid är som bekant pengar. Med ett tredje skift och mindre automatisering behövs det fler anställda. De tusentals arbetare Tesla ska anställa kommer kosta lönepengar. Hur mycket extra kostnad det blir per bil är föremål för diskussion, men minskade marginaler blir det.
Därför manar Elon Musk till stora besparingar inom bolaget. Överallt ska det sparas, stort som smått. I stora ändan fryses alla projekt som sammanlagt skulle kostat över en miljon dollar under de närmaste 12 månaderna, om inte Elon Musk själv godkänner projektet. Det kan påverka Sverige då ett nytt servicecenter kan lätt komma kosta över 8 miljoner kronor att anlägga.
Som perfektionist Elon Musk är tipsar han även om små besparingar. Kapa alla mellanhänder och underentreprenörer – och stå upp och lämna långa möten du känner inte tillför något.
The ugly
Med ett nytt tredje skift och massa rekryteringar blir chansen stor att den Model 3 du köper närmsta månaderna är tillverkad av någon oerfaren nyanställd. (Eller, inte du, för tills bilen börjar levereras till Sverige nån gång nästa år har även de nya blivit varma i kläderna.)
De första levererade Model 3 i fjol hade problem med till exempel panelpassningen. "Som en Kia från 90-talet" tyckte några.  Sedan dess har det blivit mycket bättre och de initiala problemen försvunnit. Tesla måste dock anstränga sig nu så inte kvaliteten försämras igen. Elon sätter därför målet att Model 3 ska ha bästa panelpassningen av alla bilar i hela världen. Det där med Kia sved nog.
Här kan du läsa mejlet i sin helhet:
Progress

First, congratulations are in order! We have now completed our third full week of producing over 2000 Model 3 vehicles. The first week was 2020, the second was 2070 and we just completed 2250 last week, along with 2000 Model S/X vehicles.

This is more than double Tesla's weekly production rate last year and an amazing feat in the face of many challenges! It is extremely rare for an automotive company to grow the production rate by over 100% from one year to the next. Moreover, there has simultaneously been a significant improvement in quality and build accuracy, which is reflected in positive owner feedback.

Starting today at Giga and tomorrow at Fremont, we will be stopping for three to five days to do a comprehensive set of upgrades. This should set us up for Model 3 production of 3000 to 4000 per week next month.

Another set of upgrades starting in late May should be enough to unlock production capacity of 6000 Model 3 vehicles per week by the end of June. Please note that all areas of Tesla and our suppliers will be required to demonstrate a Model 3 capacity of ~6000/week by building 850 sets of car parts in 24 hours no later than June 30th.

Any Tesla department or supplier that is unable to do this will need to have a very good explanation why not, along with a plan for fixing the problem and present that to me directly. If anyone needs help achieving this, please let me know as soon as possible. We are going to find a way or make a way to get there.

The reason that the burst-build target rate is 6000 and not 5000 per week in June is that we cannot have a number with no margin for error across thousands of internally and externally produced parts and processes, amplified by a complex global logistics chain. Actual production will move as fast as the least lucky and least well-executed part of the entire Tesla production/supply chain system.

By having a Model 3 subsystem burst-build requirement of 6k by the end of June, we will lay the groundwork for achieving a steady 6k/week across the whole Model 3 system a few months later.

As part of the drive towards 6k, all Model 3 production at Fremont will move to 24/7operations. This means that we will be adding another shift to general assembly, body and paint. Please refer anyone you know who you think meets the Tesla bar for talent, drive and trust. Between Fremont and Giga, Tesla will be adding about 400 people per week for several weeks.

Precision

Most of the design tolerances of the Model 3 are already better than any other car in the world. Soon, they will all be better. This is not enough. We will keep going until the Model 3 build precision is a factor of ten better than any other car in the world. I am not kidding.

Our car needs to be designed and built with such accuracy and precision that, if an owner measures dimensions, panel gaps and flushness, and their measurements don't match the Model 3 specs, it just means that their measuring tape is wrong.

Some parts suppliers will be unwilling or unable to achieve this level of precision. I understand that this will be considered an unreasonable request by some. That's ok, there are lots of other car companies with much lower standards. They just can't work with Tesla.

Profit

A fair criticism leveled at Tesla by outside critics is that you're not a real company unless you generate a profit, meaning simply that revenue exceeds costs. It didn't make sense to do that until reaching economies of scale, but now we are there.

Going forward, we will be far more rigorous about expenditures. I have asked the Tesla finance team to comb through every expense worldwide, no matter how small, and cut everything that doesn't have a strong value justification.

All capital or other expenditures above a million dollars, or where a set of related expenses may accumulate to a million dollars over the next 12 months, should be considered on hold until explicitly approved by me. If you are the manager responsible, please make sure you have a detailed, first principles understanding of the supplier quote, including every line item of parts & labor, before we meet.

I have been disappointed to discover how many contractor companies are interwoven throughout Tesla. Often, it is like a Russian nesting doll of contractor, subcontractor, sub-subcontractor, etc. before you finally find someone doing actual work. This means a lot of middle-managers adding cost but not doing anything obviously useful. Also, many contracts are essentially open time & materials, not fixed price and duration, which creates an incentive to turn molehills into mountains, as they never want to end the money train.

There is a very wide range of contractor performance, from excellent to worse than a drunken sloth. All contracting companies should consider the coming week to be a final opportunity to demonstrate excellence. Any that fail to meet the Tesla standard of excellence will have their contracts ended on Monday.

Btw, here are a few productivity recommendations:

– Excessive meetings are the blight of big companies and almost always get worse over time. Please get of all large meetings, unless you're certain they are providing value to the whole audience, in which case keep them very short.

– Also get rid of frequent meetings, unless you are dealing with an extremely urgent matter. Meeting frequency should drop rapidly once the urgent matter is resolved.

– Walk out of a meeting or drop off a call as soon as it is obvious you aren't adding value. It is not rude to leave, it is rude to make someone stay and waste their time.

– Don't use acronyms or nonsense words for objects, software or processes at Tesla. In general, anything that requires an explanation inhibits communication. We don't want people to have to memorize a glossary just to function at Tesla.

– Communication should travel via the shortest path necessary to get the job done, not through the "chain of command". Any manager who attempts to enforce chain of command communication will soon find themselves working elsewhere.

– A major source of issues is poor communication between depts. The way to solve this is allow free flow of information between all levels. If, in order to get something done between depts, an individual contributor has to talk to their manager, who talks to a director, who talks to a VP, who talks to another VP, who talks to a director, who talks to a manager, who talks to someone doing the actual work, then super dumb things will happen. It must be ok for people to talk directly and just make the right thing happen.

– In general, always pick common sense as your guide. If following a "company rule" is obviously ridiculous in a particular situation, such that it would make for a great Dilbert cartoon, then the rule should change.

If there is something you think should be done to make Tesla execute better or allow you to look forward to coming to work more (same thing in the long term), please send a note to …@tesla.com.

Thanks for being such a kickass team and accomplishing miracles every day. It matters. We are burning the midnight oil to burn the midnight oil.

Elon