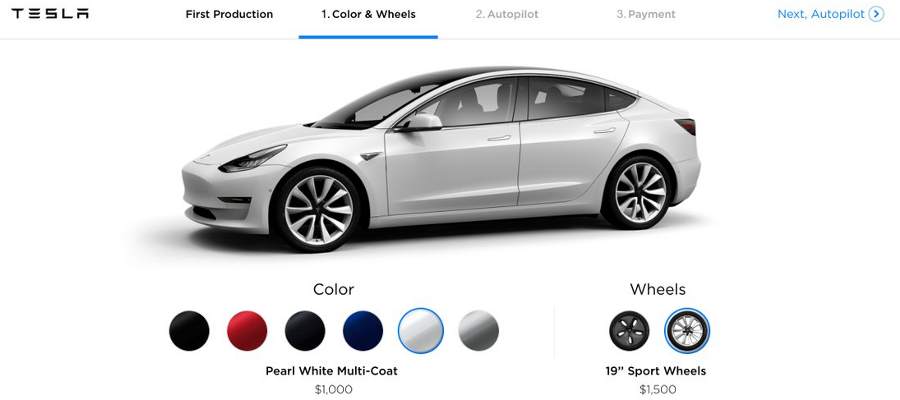 Tesla Model 3 priser och specifikation:
STANDARD EQUIPMENT
Price – $35,000
Standard Battery
Range: 220 miles (352 km) (EPA estimated)
Supercharging rate: 130 miles of range per 30 minutes (208 km efter 30 min)
Home charging rate: 30 miles of range per hour (240V outlet, 32A)
Performance
0-60 mph: 5.6 seconds (man brukar lägga till 0.1s för 0-100 km/h tider, för 60 mph=96km/h)
Top speed: 130 mph (208 km/h)
Interior
15" touchscreen display
Dual zone climate control system
FM/Internet streaming radio
Textile seating
Front center console with open storage and two USB ports
Convenience
Onboard maps and navigation
Wi-Fi and LTE internet connectivity
Keyless entry and remote climate control using the Tesla app
Voice activated controls
Bluetooth hands-free calling and media streaming
60/40 split folding rear seat to maximize cargo options
Back-up camera
Auto dimming rear-view mirror
One-touch power windows throughout
Power-adjustable side mirrors
12-volt power outlet
Safety
Full LED exterior lighting
Eight cameras, forward radar and twelve ultrasonic sensors enabling active safety technologies including collision avoidance and automatic emergency braking
Six front row and two side curtain airbags
Three-point safety belts with belt-reminders for driver and four passengers
Two LATCH (Lower Anchors and Tethers for Children) attachments in second row
Electronic stability and traction control
Four-wheel antilock disc brakes with electronic parking brake
Child safety locks
Anti-theft alarm system
Tire pressure monitoring system
Warranty
Vehicle: 4 year, 50,000 mile limited warranty
Battery warranty: 8 year, 100,000 mile (120,000 mile with Long Range Battery)
OPTIONS
Long Range Battery – $9,000
Range: 310 miles (496 km)
Supercharging rate: 170 miles of range per 30 minutes (272km efter 30 min)
Home charging rate: 37 miles of range per hour (240V outlet, 40A)
0-60 mph: 5.1 seconds (man brukar lägga till 0.1s för 0-100 km/h tider, för 60 mph=96km/h)
Top speed: 140 mph (224 km/h)
Paint (klicka på färgerna för exempelbild!)
Wheels
18" Aero: Standard
19" Sport: $1,500
Premium Upgrades Package – $5,000
Upgraded interior with additional features and premium materials.
Premium heated seating and cabin materials throughout, including open pore wood décor and two rear USBs
12-way, power adjustable front seats, steering column and side mirrors, with custom driver profiles
Premium audio system with more power, tweeters, surround speakers and subwoofer
Tinted glass roof with ultraviolet and infrared protection
Auto dimming, power folding, heated side mirrors
LED fog lamps
Center console with covered storage and docking for two smartphones
Enhanced Autopilot – $5,000
Model 3 will match speed to traffic conditions, keep within a lane, automatically change lanes, transition from one freeway to another, exit the freeway and self-park at your destination.
Additional features will roll out over time through software updates.
Full Self-Driving Capability – $3,000 (requires Enhanced Autopilot)
In the future, Model 3 will be capable of conducting trips with no action required by the person in the driver's seat.
This feature is dependent upon extensive software validation and regulatory approval, which may vary by jurisdiction.
VEHICLE SPECIFICATIONS
Dimensions & Weight
Length: 184.8" (4694 mm)
Width: 72.8" (76.1" with mirrors folded) (1849/1933 mm)
Height: 56.8" (1443 mm)
Wheelbase: 113.2" (2876 mm)
Track (wheel center): 62.2" front and rear (1580 mm)
Ground clearance: 5.5" (140 mm)
Head room, standard: 39.6" front row, 37.7" second row (1006/958 mm)
Head room, glass roof: 40.3" front row, 37.7" second row (1024/958 mm)
Leg room: 42.7" front row, 35.2" second row (1085/894 mm)
Shoulder room: 56.3" front row, 54.0" second row (1430/1372 mm)
Hip room: 53.4" front row, 52.4" second row (1356/1331 mm)
Seating capacity: 5 adults
Luggage capacity: 15 cubic feet
Curb weight:

3549 lbs. (Model 3) (1610 kg)
3814 lbs. (Model 3 Long Range) (1730 kg)

Weight distribution:

47% front, 53% rear (Model 3)
48% front, 52% rear (Model 3 Long Range)
Body
Hybrid steel/aluminum body
Drag coefficient of 0.23
Chassis
Double wishbone, virtual steer axis front suspension with coil over twin-tube shock absorbers and stabilizer bar
Independent multi-link rear suspension with twin-tube shock absorbers and stabilizer bar
Variable ratio, speed sensitive electronic power steering
Electromechanically boosted four wheel anti-lock disc brakes with electronic brake force distribution
18" Aero or 19" Sport wheels with all-season tires
ANVÄNDARMANUAL
Enligt planerna kommer fyrhjulsdrivna modellen i mitten av 2018 och kommer kosta mindre än $5,000 extra. Samtidigt släpps även luftfjädring som tillval.
Prestandamodellen sägs komma i mitten av 2018.
Europeiska leveranser sägs börja andra halvan av 2018.
De första svenska leveranserna är utlovade till början av 2019.
Elon Musk har tidigare (April 2016) angett att bilen kommer få dragkrok som tillval. Användarmanualen för Tesla Model 3 nämner också dragkrok som kommande tillval.
Priserna i Sverige kommer uppskattningsvis bli runt 400,000 kronor inkl moms efter Supermiljöbilspremie för basmodellen och runt 500,000 kronor för modellen med lång räckvidd. Premiumutrustning och Autopilot för runt 54,000 kronor var och självkörningsförmåga för runt 32,000 kronor extra. Dessa grova uppskattningar kan dock komma ändras beroende på dollarkursens utveckling. Läs mer om de svenska priserna.
För mer information kan du läsa våra nyhetsartiklar om bilen och Model 3 avdelningen på vårt forum.