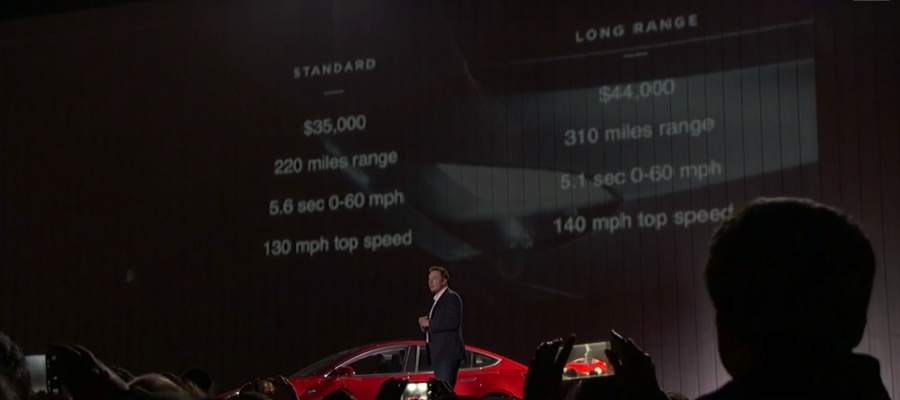 Många som gick upp extra tidigt på lördag morgon blev besvikna. Videosändningen från Tesla Model 3 leverans eventet som började kl 5:45 var extremt kort och intetsägande. All ny information de berättade om Model 3 kan sammanfattas i ovan bild: Tesla Model 3 kommer få två olika varianter, Standard och Long range.
Standard-varianten kommer 35 mil, medan Long range har en räckvidd på hela 50 mil. Den har även något snabbare acceleration, 5.1 sekunder 0-60 mph istället för Standard-variantens 5.6 sekunder. Det är Long-range varianten Tesla har börjat producera nu, Standard-varianten kommer bli tillgänglig om några månader.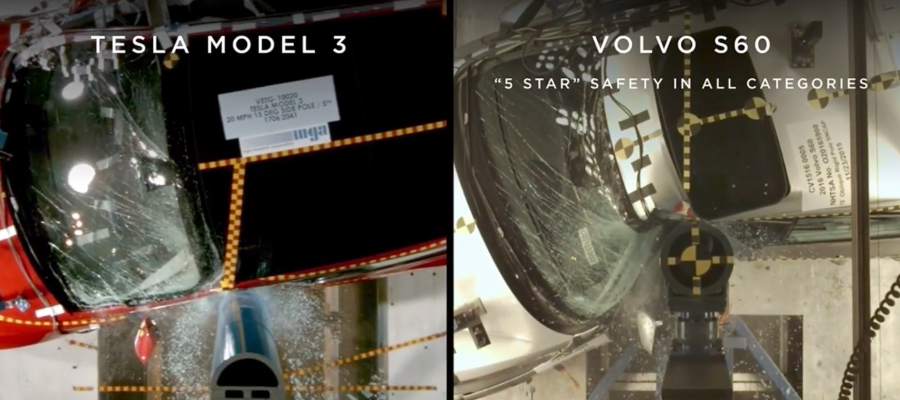 Elon visade också en liten sekvens från Model 3 krocktest. Vi svenskar ska vara stolta över att måttstocken för en säker bil är just Volvo, även om Tesla just visade hur överlägset säkrare Model 3 är än Volvo S60.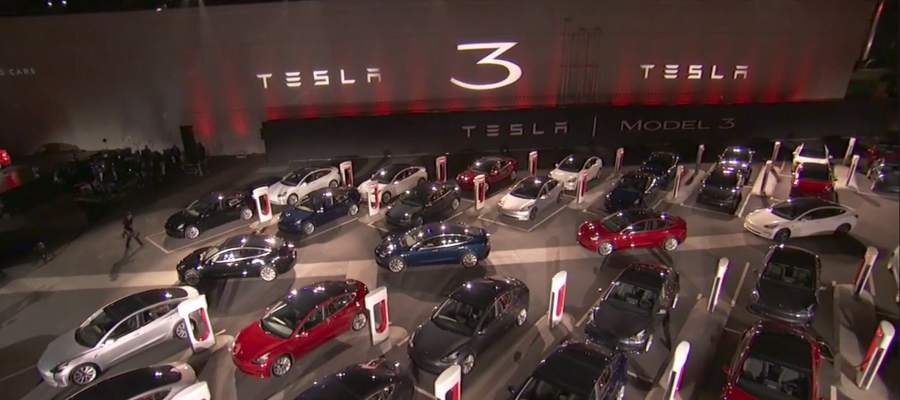 Sedan kom dock det konstigaste i hela leveranseventet: de visade de 30 bilar som de sa skulle levereras till kunder – sedan tog sändningen abrupt slut! Vi fick inte se en enda bil faktiskt bli levererad till några kunder! Snacka om att öppna upp för alle slags konspirationsteorier! Först långt efter att sändningen slutade fick några senior Tesla anställda sina bilar. Väldigt, väldigt klantigt hanterat av Tesla.
Det som däremot hände minuter efter eventet var flera sajter som la ut utförliga artiklar om Tesla Model 3. Sajter som InsideEVs, electrec och MotorTrend har fått vara med på ett tidigare press-event och fått testa bilarna. Deras färdigskrivna artiklar släpptes omedelbart efter eventet – tydligen har de fått skriva på papper att göra så. Från de artiklarna får vi reda på mycket-mycket mer om bilen.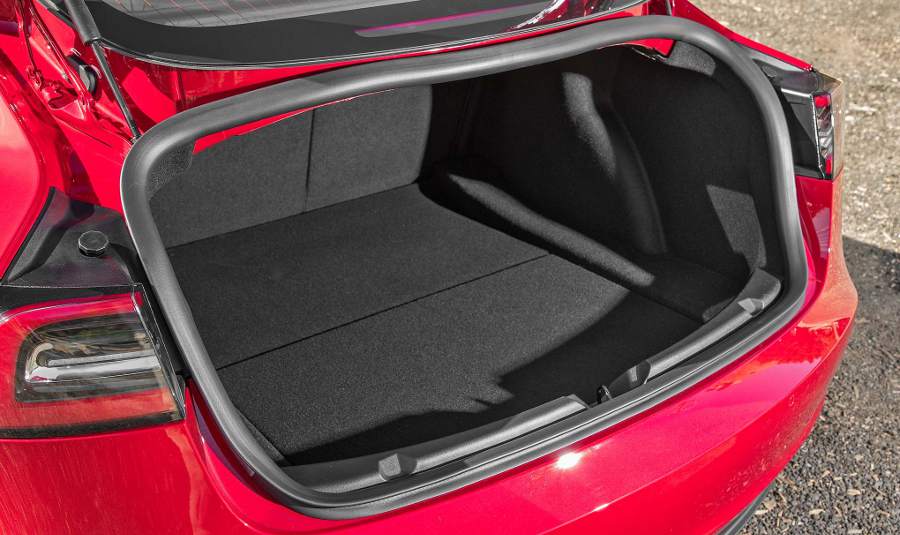 Bagageutrymmet i Model 3 verkar vara stor, men bakluckan begränsar åtkomligheten. Lyfter man på bagagerumsgolvet kommer man åt ett rejält utrymme nästan som Model S "footwell".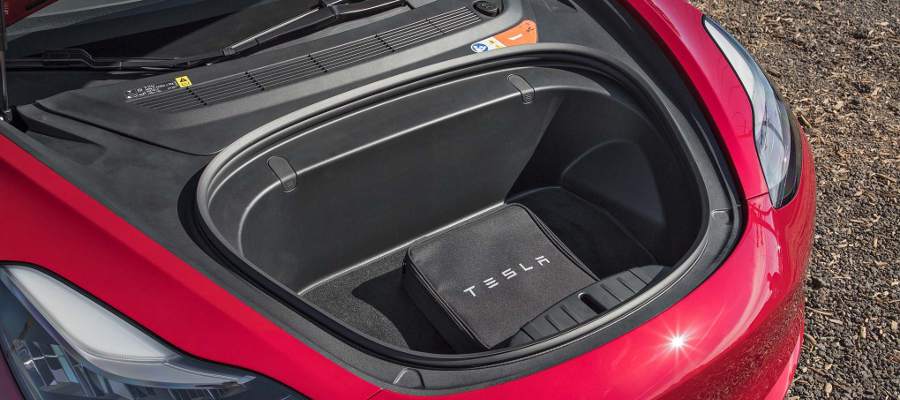 Frunken har också gott om plats, även om den känns mindre än på prototyperna.
Mittarmstödet i baksätet har två stycken drickahållare. Fönsterhissen för bakrutan och knappen för att öppna bakdörren är på armstödet. Bilens yttre dörrhandtag ser ut att vara mekaniska men sägs egentligen vara elektroniska – när man drar i handtaget låser en motor upp dörrlåset. Handskfacket är också elektrisk – man öppnar den genom tryck på mittskärmen.
Enligt Teslas hemsida kommer Long range battery modeller produceras först. Senare i höst kommer vita säten kunna väljas till och premium-paketet kunna väljas bort. I November börjar Standard battery bilarna produceras. Och först på våren 2018 kommer fyrhjulsvarianten.
Utländska leveranser börjar först i slutet av 2018.

Följande specifikationer har Tesla släppt om Tesla Model 3: (med våra kommentarer i italics)
STANDARD EQUIPMENT
Price – $35,000
Standard Battery
Range: 220 miles (352 km) (EPA estimated)
Supercharging rate: 130 miles of range per 30 minutes (208 km efter 30 min)
Home charging rate: 30 miles of range per hour (240V outlet, 32A)
Deliveries begin: Fall 2017
Performance
0-60 mph: 5.6 seconds (man brukar lägga till 0.1s för 0-100 km/h tider, för 60 mph=96km/h)
Top speed: 130 mph (208 km/h)
Interior
15" touchscreen display
Dual zone climate control system
FM/Internet streaming radio
Textile seating
Front center console with open storage and two USB ports
Convenience
Onboard maps and navigation
Wi-Fi and LTE internet connectivity
Keyless entry and remote climate control using the Tesla app
Voice activated controls
Bluetooth hands-free calling and media streaming
60/40 split folding rear seat to maximize cargo options
Back-up camera
Auto dimming rear-view mirror
One-touch power windows throughout
Power-adjustable side mirrors
12-volt power outlet
Safety
Full LED exterior lighting
Eight cameras, forward radar and twelve ultrasonic sensors enabling active safety technologies including collision avoidance and automatic emergency braking
Six front row and two side curtain airbags
Three-point safety belts with belt-reminders for driver and four passengers
Two LATCH (Lower Anchors and Tethers for Children) attachments in second row
Electronic stability and traction control
Four-wheel antilock disc brakes with electronic parking brake
Child safety locks
Anti-theft alarm system
Tire pressure monitoring system
Warranty
Vehicle: 4 year, 50,000 mile limited warranty
Battery warranty: 8 year, 100,000 mile (120,000 mile with Long Range Battery)
OPTIONS
Long Range Battery – $9,000
Range: 310 miles (496 km)
Supercharging rate: 170 miles of range per 30 minutes (272km efter 30 min)
Home charging rate: 37 miles of range per hour (240V outlet, 40A)
0-60 mph: 5.1 seconds (man brukar lägga till 0.1s för 0-100 km/h tider, för 60 mph=96km/h)
Top speed: 140 mph (224 km/h)
Deliveries begin: July 2017
Paint (klicka på färgerna för exempelbild!)
Wheels
18" Aero: Standard
19" Sport: $1,500
Premium Upgrades Package – $5,000
Upgraded interior with additional features and premium materials.
Premium heated seating and cabin materials throughout, including open pore wood décor and two rear USBs
12-way, power adjustable front seats, steering column and side mirrors, with custom driver profiles
Premium audio system with more power, tweeters, surround speakers and subwoofer
Tinted glass roof with ultraviolet and infrared protection
Auto dimming, power folding, heated side mirrors
LED fog lamps
Center console with covered storage and docking for two smartphones
Enhanced Autopilot – $5,000
Model 3 will match speed to traffic conditions, keep within a lane, automatically change lanes, transition from one freeway to another, exit the freeway and self-park at your destination.
Additional features will roll out over time through software updates.
Full Self-Driving Capability – $3,000 (requires Enhanced Autopilot)
In the future, Model 3 will be capable of conducting trips with no action required by the person in the driver's seat.
This feature is dependent upon extensive software validation and regulatory approval, which may vary by jurisdiction.
VEHICLE SPECIFICATIONS
Dimensions & Weight
Length: 184.8" (4694 mm)
Width: 72.8" (76.1" with mirrors folded) (1849/1933 mm)
Height: 56.8" (1443 mm)
Wheelbase: 113.2" (2876 mm)
Track (wheel center): 62.2" front and rear (1580 mm)
Ground clearance: 5.5" (140 mm)
Head room, standard: 39.6" front row, 37.7" second row (1006/958 mm)
Head room, glass roof: 40.3" front row, 37.7" second row (1024/958 mm)
Leg room: 42.7" front row, 35.2" second row (1085/894 mm)
Shoulder room: 56.3" front row, 54.0" second row (1430/1372 mm)
Hip room: 53.4" front row, 52.4" second row (1356/1331 mm)
Seating capacity: 5 adults
Luggage capacity: 15 cubic feet
Curb weight:

3549 lbs. (Model 3) (1610 kg)
3814 lbs. (Model 3 Long Range) (1730 kg)

Weight distribution:

47% front, 53% rear (Model 3)
48% front, 52% rear (Model 3 Long Range)
Body
Hybrid steel/aluminum body
Drag coefficient of 0.23
Chassis
Double wishbone, virtual steer axis front suspension with coil over twin-tube shock absorbers and stabilizer bar
Independent multi-link rear suspension with twin-tube shock absorbers and stabilizer bar
Variable ratio, speed sensitive electronic power steering
Electromechanically boosted four wheel anti-lock disc brakes with electronic brake force distribution
18" Aero or 19" Sport wheels with all-season tires
Standard Accessories
240 volt NEMA 14-50 adapter
120 volt NEMA 5-15 adapter
J1772 public charging adapter
20 foot mobile connector with storage bag
Interiörbilder: