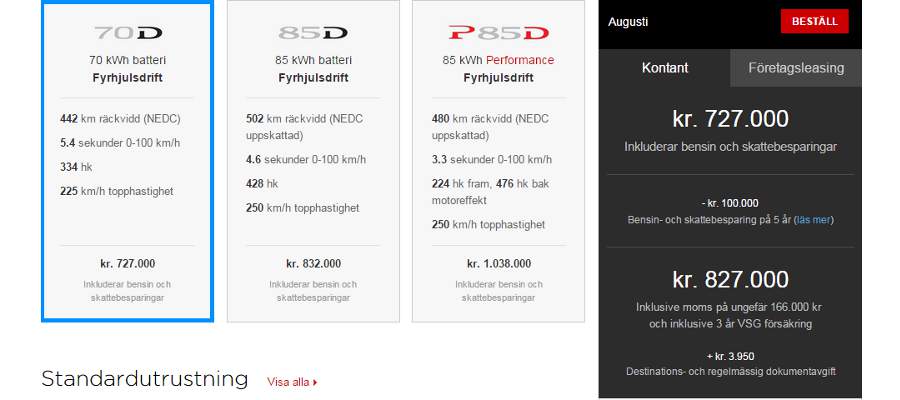 Frankly I don't know if this letter ever makes to your eyes Mr Musk, but I thought it's better to aim for the star and hope it gets "high enough" in Tesla's organisation – because the topic I want to discuss is very important.
In one single click of the mouse (on the "publish" button for the new Model S Design studio) all those years of effort it took Tesla Motors to build a reputation as a car manufacturer and gain customer confidence has become seriously damaged.
In Sweden -as in most of Europe- companies state the full price of items they are selling, including taxes and delivery fees. It is so customary most people actually think it is illegal not to do so.
Tesla Motors latest decision to publish "after incentives & gas savings" prices on the Design studio webpage made people I have spoken with literally laugh and question the seriousness of the company.
Before this change one could proudly say Tesla Motors' way of selling directly to the customers was much better than going to your local car hustler and being deceived. Now several of our members are actually ashamed to show the Design studio to people interested in buying a Tesla – as even the lowest, most cheating car hustler in Sweden still states the full price for their cars! It feels like you have put a "virtual car hustler" on that page.
It is understandable that you want to show customers the great gas savings that can be made with Model S – it certainly is something to be proud of. However in Sweden -as in most of Europe- such information is stated after the full price! Not instead of.
This unfortunate change may be a result of cultural differences between USA and Europe, but here it sends the wrong signal to the average customer who may take this as a sign of a dishonest company! This is not the image Tesla Motors wants to have.
Please reconsider your decision about how prices are presented in Sweden -and other European countries- on your Design studio page. Please bring back the old way of stating the grand total for each model. Please restore consumer confidence in your company!
Best Regards,
/Tibor Blomhäll
President, Tesla Club Sweden
Tesla Club Sweden is an independent car club for Tesla owners and enthusiasts – teslaclubsweden.se